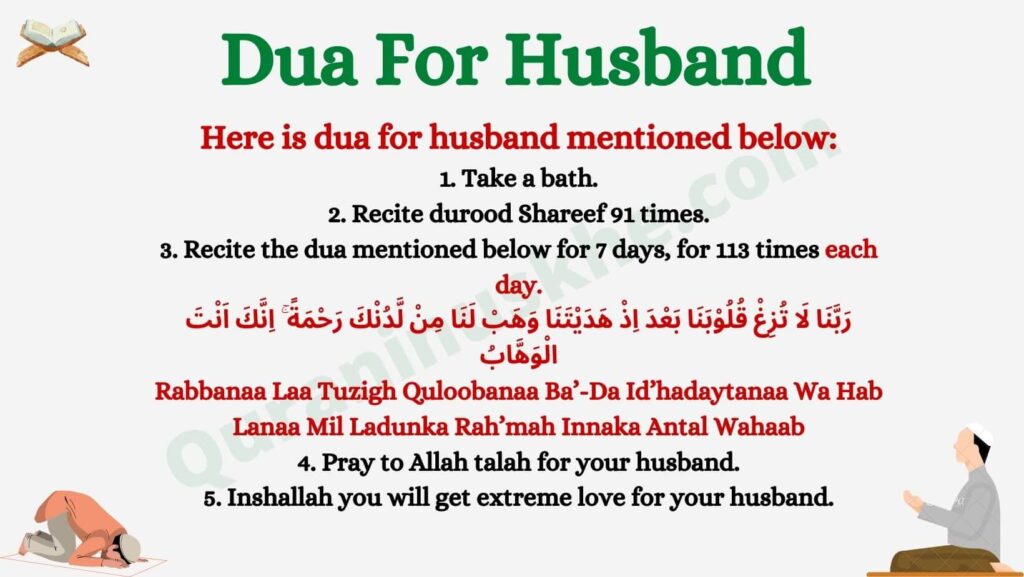 As-salamu Alaykum to All my brothers and sisters, present out here. Today we are going to talk about effective and powerful Dua For Husband. which is brought by your brother in a proper halal way. No need to search or wander here and there because QURANI NUSKHE provides you with solutions for your problems in rapid succession. So read the article carefully and make sure to don't to miss any step.
This dua is mostly recommended to my dear sisters. Those who are seeking the love of their husband.
As we all know marriage is the best feeling ever that happened in one's life but sometimes due to some circumstances or disputes, girls had to sacrifice and sometimes they lost the love of their husbands.
This dua will help you to overcome these kinds of situations.
Islamic Nuskhe For Husband
If anyone is in search of an Islamic dua for a husband then You are in right place. This Islamic dua is very much powerful and effective. Do this dua after isha namaz, as much as you can to get good results.
يَا مُقَلِّبَ الْقُلُوبِ ثَبِّتْ قَلْبِي عَلَى دِينِكَ
Yā Muqallibal-qulūbi, thabbit qalbī 'alā dīnik.
Benefits of reciting dua for husband
The benefits of reciting Dua For Husband are if you don't have a husband then you will get your desired husband. And this dua will help you to gain extreme love for your husband. this dua will help you for sure to get your dream husband. As you ever dreamt to get and he will keep you happy in the future and do as you want him to do.
He will never let you feel low and fulfill every dream you ever dreamt.
Here is the dua mentioned below:
1. Take a bath.
2. Recite durood Shareef 91 times.
3. Recite the dua mentioned below for 7 days, for 113 times each day.
رَبَّنَا لَا تُزِغْ قُلُوْبَنَا بَعْدَ اِذْ ھَدَيْتَنَا وَھَبْ لَنَا مِنْ لَّدُنْكَ رَحْمَةً ۚ اِنَّكَ اَنْتَ الْوَھَّابُ
Rabbanaa Laa Tuzigh Quloobanaa Ba'-Da Id'hadaytanaa Wa Hab Lanaa Mil Ladunka Rah'mah Innaka Antal Wahaab
4. Pray to Allah Allah for your husband.
5. Inshallah you will get extreme love for your husband.
Precautions when performing this dua
1. Take a bath
2. Wear clean clothes
3. Love-your love towards your husband must be unconditional
4. Believe-your believe in almighty ALLAH must be strong and faith must be pure that he will bless you with your husband's love
Drawbacks of reciting wrong:
If by mistake you recite, any Verse wrong, then it might be not fruitful as you want. So at last recite this verse 19 times. For feeling apologies to Almighty Allah.
رَّبِّ ارْحَمْهُمَا كَمَا رَبَّيَانِي صَغِيرًا
Rabbir-hamhumā kamā rabbayāni sagheerā
Beautiful Prayer for the husband?
As I know most of my sisters are searching for a good and beautiful remedy for their husband's love. so need not be worried my dear sisters as the above-mentioned dua is a very much powerful and beautiful dua. This dua helps you in getting your husband extreme love and getting your husband back if he left you. so read this dua carefully without skipping any of its steps.
Dua for my husband?
Yes, the above-mentioned dua is for your husband and this will help you in every situation. Either your husband left you or doesn't love you this dua solves everything in a halal way, without any black magic or haram work. so perform this dua regularly to get fruitful results
Most effective, Powerful Solution for husband love back in your life?
This dua is going to be dream come true in my sister's life those who are searching for a husband or love back. This dua is a very much effective and powerful dua toward your husband's love back. The thing you have to do is read this dua carefully and regularly with a pure soul and believe in almighty Allah.
Dua to make my husband love me?
There are so many dua's mentioned on the internet related to this topic but I don't know about them and I don't want to say about them but this dua going to best dua for you if you really want to make your husband love you. No need to wander here and there, get stuck with the dua and get the result. Inshallah.
Conclusion
At last, I want to sum up this article by saying that a dua for the husband is one of the most important dua for men who want a better marriage. The dua for the husband is a dua that can change lives and bring happiness to a couple and their children.
A majority of people are unaware of how important it is to have a dua for their spouses. However, the benefits of having even a short dua for your spouse are great. This article will provide you with some important information about the dua for your spouse.
First and foremost, you need to have a dua book that you can use to read out the dua. The dua should be read out by your heart and soul. The dua is often the most effective way to make peace with your partner. This article will provide you with some great dua's to help you develop a strong relationship with your spouse.
If you want to know more about Dua For Husband then stay updated with our website – Quraninuskhe.com